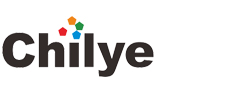 About Chilye
Suzhou Chilye is a leading supplier of high voltage electrical appliances and power distribution units for new energy vehicles, focus on the development,
production, and solution support to high power electronic components, high voltage connectors, power distribution units for new energy vehicles.
The products & services range extend from power battery, drive motor, battery/inverter/motor technology to vehicles, battery charging and charging facilities.

"Innovation & Technology"are the driving force for Chilye's development, total investment on new technology, new products and new process is over
10% of the sales revenue in the past 6 years, which enables Chilye to have a comprehensive variety of high voltage connectors series, charging connectors series,
power distribution units series. Chilye is involved in drafting up several GB standards and 6 industrial standards, and is the owner of 120 patents.
Chilye takes lead in technology and system integration in the industrial field Apply smart technology to connect the green future.
Chilye is willing to cooperate with the players in EV industrial chain for the standardization, industrialization of electric vehicle components to create a better future.

Vision
We are dedicated to striving for excellence, enhancing green and smart technology, protecting the environment
Mission
Being innovative and providing competitive goods and services
Building effective and efficient teams
Becoming an outstanding supplier with a comprehensive line of high voltage electrical units for new energy vehicles.

Honors
Drafting up 6 GB/ industrial standards
Owner of 120 patents
Member of CEVA (China Electric Vehicle Association)
Preferred EVSE supplier,
Top 100 company on core components in EV industry
Leading tech innovative company of Suzhou
High tech enterprise honor in Jiangsu province
Suzhou high voltage connector research center
a board member of Chine E-drive Alliance
TS/IATF/ISO/14001,UL,CE certified

Milestone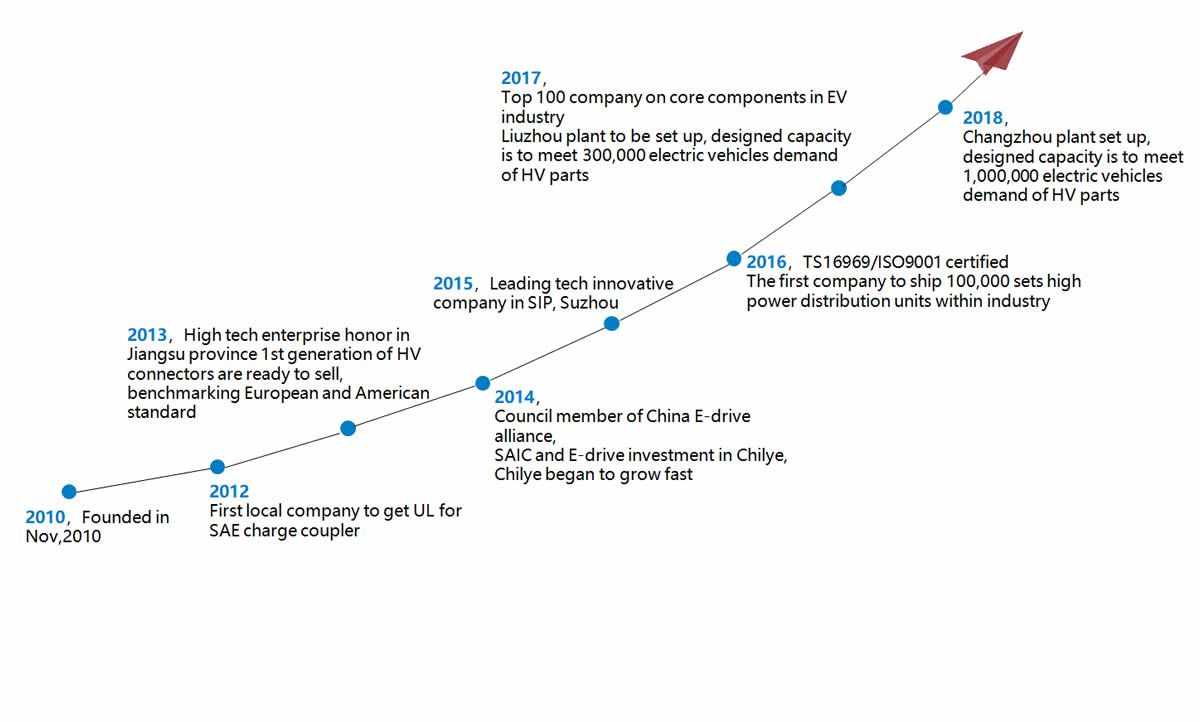 Quality management
Quality drives development, Chilye has established a complete process and quality system since the foundation,
with which all projects can be proceeded smoothly. Quality process covers from customer service, R&D, production,
inspection, supply chain management to every aspect.
Chilye has been certified by ISO9001, IATF16949 and ISO14001,
Chilye is applying for ISO18000 certification. Chilye also got "UL""TUV""CE" certification for our products.
Chilye believes in that high quality plays a significant role in creating value for customers

Innovation
The important part of Chilye's developing strategy: for the present and the future, hunger for innovation, insist on providing solutions for
continuously developed EV industry.

Chilye not only provide high precision connectors and solutions to electric vehicles, but also has the plan to provide technical innovation related
to green technology, e.g. wind power generation, solar energy, DC power.

Technology, product, process and material innovation are all Chilye's focus, compound & systematic innovation is the promising.
While trying to pick the shining pearl of the innovative technology to influence the environment, we also pay attention on every minor improvement
to optimize daily operation and create more value for customers

Chilye attaches great importance to nurturing technical talents and embrace other like-minded talents to join us. Chilye may only be succeed with all
these outstanding talents, who can challenge their limits in Chilye